Iconic toy car brand Hot Wheels, on November 16th Released an NFT collection of their classic wind-and-go race cars. They sold out soon after going on sale. 
If one was a child at any time between the '70s, 80's or 90's – the height of the brand's popularity – then one may recall the toy company, Mattel's miniature race vehicle brand, Hot Wheels. Designed to emulate classic American Hot Rods, the brand captured the imaginations – and playing hours – of many a young lad and lady. 
"…These ageless collectibles continue to bring joy to millions as the most brilliant designers in the world team up to create relevant and spectacular new models. Since 1968, Hot Wheels boasts over 20,000 unique die-cast models and has even given birth to a select few real-life vehicles," states the website.
"Now, Mattel partners with WAX to take it all one step further by crossing over into the digital era with the Hot Wheels Garage Series 1 NFT collection on the WAX Blockchain"
Though waning in popularity during the 2000s, the brand has adapted to the 21st century, in a way that allows its longest-standing fans to continue to collect the vehicles. Through a Non-Fungible Token (NFT) release of their classic vehicles, on the WAX blockchain platform. 
Announced in late October, the partnership between the collectible toy car company and the WAX blockchain platform, the Hot Wheels NFT Garage, saw a collection of 40 different Hot Wheels NFT packs go on sale. The vehicles in the collection were designed by members of the Hot Wheels design team, each NFT minted, was made to appear as though It were a physical Hot Wheel pack, as one might find on a store shelf.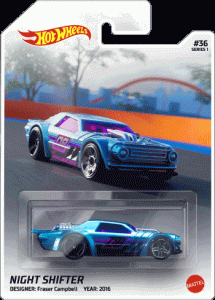 All packs in the Hot Wheels Garage – This being the first release realized by the partnership – contained 97,200 collectible toy cars (in GIF format,) of 4 different rarity types; Basic, Rare, Premium, and Treasure Hunt (NFTH). Collectors could choose from a 4-pack (4 pre-minted NFT's,) starting at $15, or a 10-pack starting at $35. 
There were 12,150 standard packs released, and only 4,860 deluxe packs made available for sale. Each transaction limited buyers to two packs only. Repeated transactions were not prohibited, however.
"Hot Wheels is excited to offer limited, unique, and sustainable NFTs with our latest Garage of Legends series. Collectors will have a chance to obtain exclusive physical die-casts vehicles and importantly, the NFTs will be minted on the sustainable WAX blockchain," commented Andrew Chan, Head of Digital Gaming at Mattel, back in October.